《100 family names _ 百家姓》 / Yunnan, China / 2015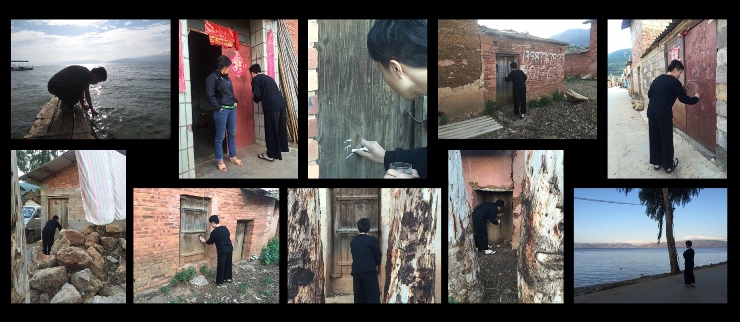 in anciant China, at first they remember some sentences by sound, thenstart to study wrighting.
There are some kind of sentences. I am interested on"Bai jia xing"(100 family names).
Mostly sentencies mean aboutmanner for living, but "Bai jia xing" is just about family namefor study chalactors.
Family is very important social unit in China.
Oldest son keep andcontinue father's family name for next generation for going family histry. Sofamily name is a kind of social sign that they feel something grounding acomunity.
I picked up a cup of water at the lake side in center of the village,then writed down "100 family name" on each door, then I drunk a cupof water when I arrived lakeside of outside of the village.
这是个测试。古代中国,首先需要念这些,后来开始练字。练字还有千字文等等和道德有关系的文章。但这"百家姓"认字是好像没有什么意义(我问了中国朋友们,他们都不知道用百家姓认字的理由),就人家无条件的念这些。我觉得这"家"或"家属"的概念在中国很强,我在这儿15年也还是大家看我是外国人。但这概念是现在的世界里越来越消失的。在云南的湖边,手里拿着一杯湖水,村子里每个门口用粉笔写百家姓,到村外的湖边把手里的水喝光了。
古代中国では千字文などをまず暗唱し、その後で字を練習した。その内容は道徳的や哲学に関する内容が多いのだが、
「百家姓」は姓を並べたもので、それ自体には何がしかの意味はない。無条件に暗唱してこれらの字を覚える。
この「家に属する」概念は中国では大変強い。現代は以前ほどではないが。。雲南省の湖辺の村で湖の水を汲み、
各門前に百家姓の字を書きながら村の外れまで着いてから湖の水を飲んだ。